Anchor Marine Canvas was established in 1996 has grown since then from a one man band to a team of dedicated cutters, sewers and fitters. We are located in the heart of Fort Lauderdale marina in Florida.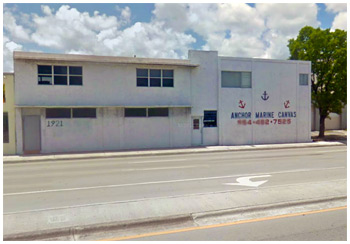 As well as boat covers, we have also designed and manufactured covers for house patios, business tent, garden furniture and much, much more. We offer a wide range of fabrics and designs. If you do not see a solution to your requirements on our website, please contact us. As specialists we are able to cater to most needs.
Over the past 10 years we have built up a reputation for quality and craftsmanship by using only the best available materials and listening closely to our client's requirements. We strive to maintain the highest levels of customer care knowing that our business has grown through word of mouth alone.
The area we cover is mostly Miami, Fort Lauderdale and West Palm Beach - Florida. If you have questions in regards to our service area, please contact us.
CALL US TODAY FOR A FREE ESTIMATE!